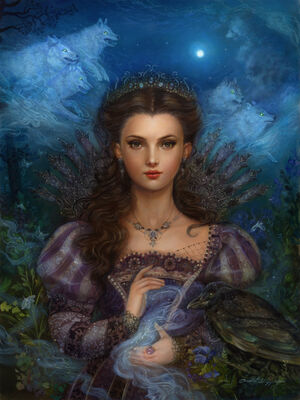 Styx (Στυξ) is the personification of hate, and the goddess of the river with the same name in the Underworld. She is the eldest of the Titan generation of Okeanides. Styx was also the personified Daimon (Spirit) of hatred (stygos). She was a firm ally of Zeus in the Titan Wars, who brought her children Nike (Victory), Zelos (Rivalry), Bia (Force) and Kratos (Strength) to stand alongside the god. Zeus rewarded her by making her the goddess of the River Styx and the agent of the binding oath of the gods.
The River Styx was also a corrosive Arkadian stream, which allegedly flowed forth from the underworld.
Titanomachy
During the early days of the titan war, Styx brought her and her children from Pallas (Nike, Kratos, Zelos, and Bia) to the side of Zeus. For her loyalty, Zeus used her name as the binding oath that all gods must obey.
Parents
Okeanos (father) & Tethys (mother)
Spouse & Lovers
Pallas (Titan) (Husband)
Children
Nike (daughter)
Kratos (son)
Zelos (son)
Bia (daughter)
Unidentified streams and fountains
Gallery
Trivia
Ancient Text
"Also she brought forth a holy company of daughters who with the lord Apollo and the Rivers have youths in their keeping -- to this charge Zeus appointed them -- Peitho, and Admete, and Ianthe, and Electra, and Doris, and Prymno, and Urania divine in form, Hippo, Clymene, Rhodea, and Callirrhoe, Zeuxo and Clytie, and Idyia, and Pasithoe, Plexaura, and Galaxaura, and lovely Dione, Melobosis and Thoe and handsome Polydora, Cerceis lovely of form, and soft eyed Pluto, Perseis, Ianeira, Acaste, Xanthe, Petraea the fair, Menestho, and Europa, Metis, and Eurynome, and Telesto saffron-clad, Chryseis and Asia and charming Calypso, Eudora, and Tyche, Amphirho, and Ocyrrhoe, and Styx who is the chiefest of them all. These are the eldest daughters that sprang from Ocean and Tethys; but there are many besides. For there are three thousand neat-ankled daughters of Ocean who are dispersed far and wide, and in every place alike serve the earth and the deep waters, children who are glorious among goddesses."[1]
- Hesiod, Theogony 346